Hardware Enabled SaaS Solution
Quantifying Methane Emissions 
NevadaNano's MethaneTrack™ is a low cost network of rugged monitoring points to measure methane emissions and report leak location and size to the operator. Utilizing an Industrial IoT (IIoT) network to detect methane in the air, MethaneTrack™ detects fugitive and operational emissions from a site and immediately alerts the operator of the location and volume of the emissions, facilitating rapid response and repair. Autonomous, continuous monitoring enables up to 99% reduction in emissions while reducing operational costs and boosting profits.
MethaneTrack™ Delivers Continuous, Cost effective, Fully Automated Methane Emissions Monitoring
MethaneTrack™ Features & Benefits
Low Total Cost of Ownership
• Low-cost hardware and rapid setup – same day operation
• 5+ year maintenance free operation (replace batteries every 5 years)
• 15+ year sensor life: no calibration required!
• Automated 24/7/365 operation — no manual monitoring required
• Increases revenue and profits in some applications
Identifies the source and quantifies the emissions
• Provides automated alerts
• Prioritizes largest leaks for maximum emissions reduction
• Discriminates between operational and fugitive emissions to reduce LDAR costs
Integrates with asset management software
• Improves operational efficiency
• Enables predictive analytics and optimization of preventive maintenance programs
Automated reporting of leak reduction statistics
• Secure Cloud based operation: Private Cloud or secure public cloud
• Monitor enterprise wide ESG performance real-time from any computer
• Intuitive User Interface – displays all current events
Meets or exceeds tough oil field standards
• Global approvals: ATEX, UKEX, UL (Pending)
• Accurate from -40° to +75° C, 0 to 100 RH
• IP 67 Rating
• Inherently immune to poisoning
MethaneTrack™ User Interface
Detailed listing of leaks including: 
Leak size
Leak duration
Volume
Location
Priority
Pop-up Details
Emission Key Performance Indicators Tracking
Monthly Trends
Cumulative Year-to-date
Telemetry Data
Methane Concentration
Wind speed and direction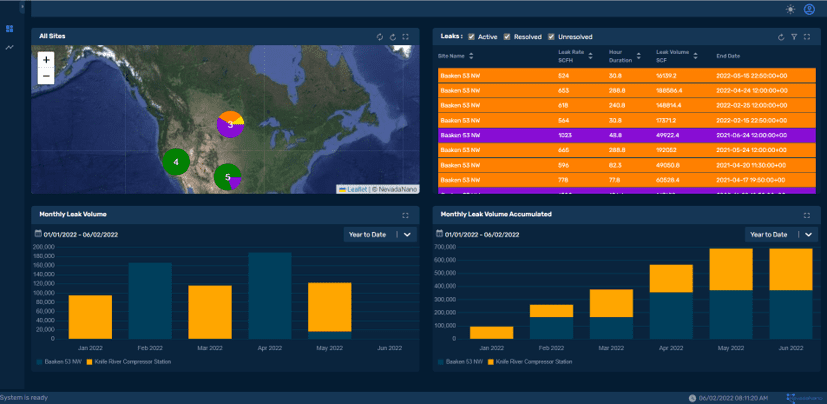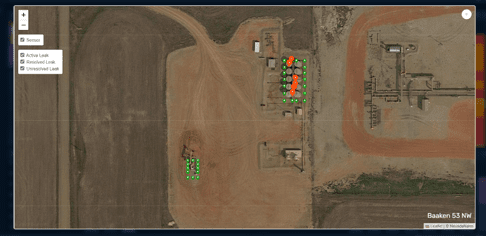 Google Earth Integration
NevadaNano's MethaneTrack™ integrates google earth and its satellite imagery to see an over top view of your site. On this view you will be able to see where each endpoint is located at your site, and it will allow you to easily determine where the leak is located.
Methane Leak Detection
Detecting Methane Leaks Early is Crucial
Methane isn't only an environmental threat. Methane leaks can result in stiff regulatory fines for many gas companies. And the Environmental Protection Agency has recently taken action to curb methane emissions as part of the Clean Air Act.
This bill will reduce methane emissions by 41 million tons between 2023 and 2035, equivalent to 920 million metric tons of carbon dioxide. More than all carbon dioxide emitted from passenger cars and commercial aircraft in the United States in 2019.
Non-compliance with regulations regarding methane emissions can result in stiff fines and penalties.
Detecting methane leaks is also crucial in maintaining a safe workplace for the oil and gas industry. Methane is an odorless, colorless gas that is highly flammable and combustible at 100% Lower Explosive Limit (LEL) concentrations.
When leaked methane accumulates, it can result in an explosion once ignited. These major industrial accidents often result in the devastating loss of life and property. Therefore, these types of accidents must be avoided at all costs since they can be so destructive.
There is no room for error regarding methane emissions and leaks. The environmental impact of methane is dire. And these leaks can pose a tremendous risk to health and safety if they contribute to an explosion. Reliable gas detection technology is the best way to find a leak early and stop it quickly.
Methane Detection Technologies
NevadaNano's MethaneTrack™ system is a comprehensive solution that provides low cost, continuous measurement and quantification of methane emissions to enable rapid abatement.   Utilizing an Industrial IoT (IIoT) network of monitoring points to detect methane in the air, the system detects fugitive and operational emissions from a site and immediately alerts the operator to the location and volume of the emissions, allowing rapid response and repair. Automated, continuous monitoring can enable up to 99% reduction in emissions while reducing operational costs and boosting profits.
Proprietary silicon detection technology (or the MPS) provides 5-years of battery powered, maintenance free operation and emission reductions of up to 99%.
SaaS based data analytics provide quantification and localization of emissions through a customizable interface to monitor assets worldwide.